Style Chat: Ix Style Founder Francesca Kennedy
As the post Winter Storm Jonas snow starts to melt and reveal the city beneath it, I'm struck with a very real reminder that there are still two whole months of winter remaining. I can't help instantly dreaming of warmer climes and tropical vibes. To me, no vacation wardrobe would be complete without at least one pair of Ix Style sandals. Luckily, I can get them straight from the source as founder Francesca Kennedy happens to be a friend!
Living in New York and working in the fashion industry, I've come across many a designer and entrepreneur, but Francesca is unique in her dedication to using her eye for design and her business savvy for good: for every purchase Ix makes a donation that provides clean drinking water to children.
Learn more about Francesca's journey via this video she did for The Gap's One Stitch Closercampaign for International Women's Day - it highlights the brand, their water mission, and the work they do with local artisans in Guatemala:
I recently caught up with Francesca as we got ready to head to the New York Botanical Garden's Annual Winter Wonderland Ball. Check out some BTS shots and my Q&A with her below!
What does the name "Ix Style" mean and what inspired it?
Ix Style (pronounced "eye ex") is the Mayan word for water. For every purchase, we provide clean drinking water to children in Guatemala, where my family is from originally.
When/how did this project start?
It was a total accident! I was inspired to help after seeing the once beautiful Lake Atitlan (which I swam in as a child) overrun with blue-green algae and a new generation of children collecting and drinking the contaminated water.
What has been the most exciting aspect of this project/business?
The support we have received from media outlets, celebrities, and vendors has been one the most exciting aspects of the project. Richard Branson was one of Ix Style's first clients. We also designed exclusive styles with Gwyneth Paltrow for Goop. Actresses Amanda Seyfriend and Jamie Chung and fashion designer Rachel Roy are also amongst the supporters of Ix Style.
Some of our retailers include J.Crew, Anthropologie, Gap, ShopBop.com, Holt Renfrew, United Arrow, and select Four Seasons and Viceroy resorts. We've also garnered international press including features in The Financial Times, The LA Times, Vogue, Harper's Bazaar, InStyle, Marie Claire, and Glamour magazines.
But, of course, the most rewarding part is seeing the smiling faces of the families and children we help in Guatemala who have a running faucet and clean water for the first time in their lives!
How would you describe your personal style?
In NYC, during most days and nights out I basically only wear black and white. My look is very Chanel-esque. I feel naked if I leave the house without my pearl earrings!
In the summer, I'm very boho chic. Bikinis, maxi dresses, caftans, and of course my Ix Style sandals!
For events, I love to go glam all the way and pick unique pieces that no one else will be wearing. For the Botanical Garden Gala, my friend Trisha Gregory's new company, Armarium, dressed me in a vintage black dress. I felt like Cinderella especially when Bill Cunningham asked for a photo (swoon - every NYC girl's dream come true!)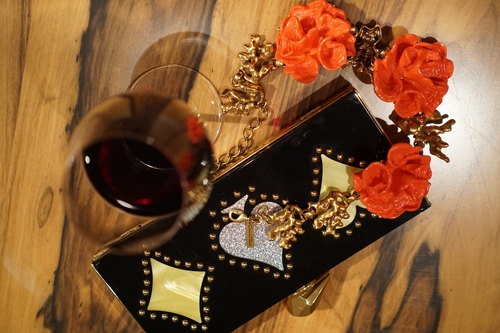 What kind of people inspire you most?
Women who want to leave a mark on the world and leave it better than how they found it and leave a legacy for future generations. Women who want to roll up their sleeves and do something important instead of just talking about it!
The amazing Latina innovators that I've met in a group called Access Latina are exactly the kind of women that inspire me. Also, the countless NYC entrepreneurs that I have met through the Breakout Group. This members-only group meets bi-weekly for breakfast either at Neuhouse or The Standard East Hotel to discuss various entrepreneurial subjects, the group consists of so many different types of people from various industries and these breakfasts always leave me motivated to do more!
And of course my core group of amazing girlfriends that have blessed my life and just kill it at whatever they do: Brittany Espy who is my guardian angel and an overall powerhouse is my daily inspiration and beam of shining light. She worked in politics in D.C., then went to work as a publicist for Bally's, Dolce & Gabbanna, and Brunnelo Cucinnelli, and now has her own amazing jewelry brand called Perry & Bleecker!
Friends like you, Katherine, always inspire me too - I love to see women doing their own thing and owning it!
Share with us one of your favorite quotes:
"The two most important days in your life are the day you are born and the day you find out why."
What are you currently:
Reading: I try to listen to nonfiction audiobooks on Audiobooks.com when I'm working in the office on a daily basis. I'm currently listening to Deepak Chopra's 7 Laws of Success. My dear friend Veronica Cabezas (another huge inspiration) left her home country of Ecuador with this book in hand without knowing a word of English to fly off to NYC to "make it." Not only did she "make it," but she got to meet her motivator Deepak Chopra and is now coordinating an event with him. Talk about synchronization!
Watching: Billions on Showtime and Making A Murderer on Netflix.
Digging: Reggae music! I went to Jamaica last year for Valentine's Day with my boyfriend Scott and fell in love with the country, the people, the food, and the music. Reggae music has always been part of my life since I spent most of my childhood in the Caribbean on the island of Roatan. So it's been great to get into reggae again. We're going to see The Wailers perform on Bob Marley's birthday. It's nice to transport to an island vibe in this urban jungle simply by listening to reggae!
Any upcoming travel plans?
I actually just got back from one of my favorite places - St. Barths! The beaches, long rosé filled lunches, and the French culture are so chic - you can't help but be immediately transported to paradise.
Let me know about your dream Winter Getaway destinations in the comments below and don't forget to pack your Ix Style sandals!
Cheers,
Katherine